9 years ago today, on 17th August 2005, I was just one of seventeen brave (or foolhardy) people who announced that they were leaving the very successful Mambo project and starting out on their own. It was a snap decision and truth be told if we had stopped to think about how much work lay ahead of us in the coming months I suspect we might not have been in such a rush. We were greatly helped at the time by Eben Moglen of the Software Freedom Law Centre and I believe we were their first "clients".
Just two weeks later, on 1st September, our new baby had a name and the world was introduced to Joomla! Chosing a name was just the first of many difficult tasks that we faced. With 17 people in the irc chatroom to discuss the ideas it's not suprising that we had many different ideas and the first of many heated debates.
The passion that everyone showed when chosing a name highlighted for me how much we all cared about our new baby. Finding a name was not an easy task and finding a name with meaning and that no one else was using was even harder. This screenshot shows the results on google for the word Joomla just before we announced the name.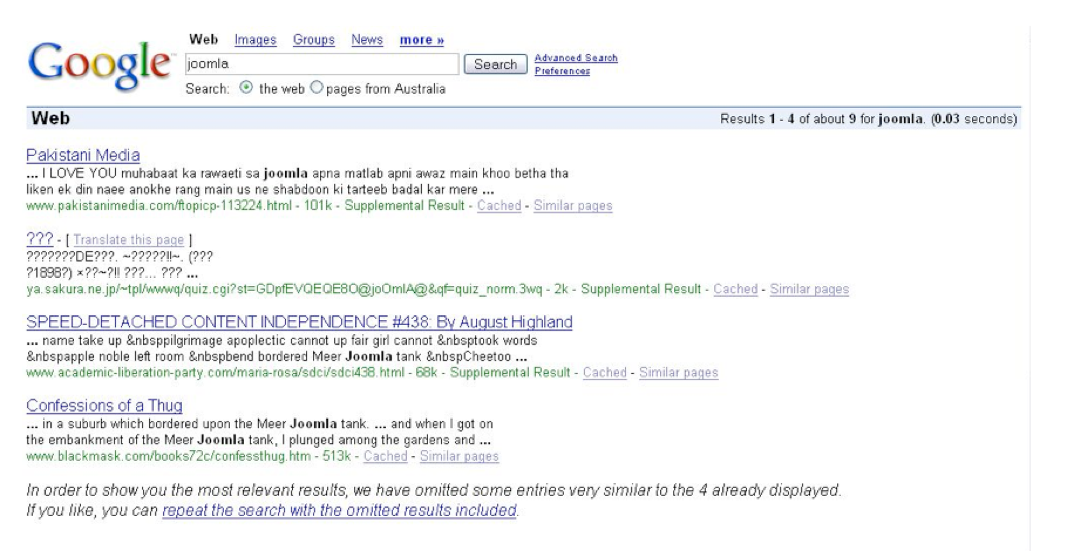 One week later a competition was launched to find a logo that represented the values of Joomla so that our new baby would have an identity.
There were over 500 entries from which the core team selected just 5 to be put up for a community vote with over 2700 votes cast. On the 21 September the winner was announced and the design created by Alan Urquhart was chosen.
Alan said at the time
I did have some thought behind the logo. I wanted to start with the letter "J" (obviously because joomla starts with a "J") and found that creating four "J"s androtating the "J"s in 45 degree increments fit together like a puzzle. This also gives the impression of chain links intertwined together. Adding the circles toeach "J" gave the impression of people and the multiple colors gave the impression of different races, people, cultures, or whatever you would like to call it. Basically the icon portion of the logo shows a group of people intertwined together as one."
A lot has happened since then and I doubt any one of the seventeen people who made the decision to start something new could ever have imagined that Joomla would grow to be what it is today.
Small piece of Open Source trivia - Debian Linux was first released 16th August 1993 - must be something in the air in August
Birthday cake photo from https://twitter.com/Taimurian and made by his sister.