You enter a crowded bar and across the room you spot a beautiful person. They're dressed in the latest fashions and they have a welcoming smile that draws you across the room to say hello.
We all know that beauty is only skin deep and that it's what's inside that really matters and yet despite that we are still attracted to the one with the stunning looks.
Selecting an application to build your latest, or first, web site is just the same.
It's a crowded marketplace and whilst recommendations may have provided you with a shortlist you still have to make that final choice.
You take the plunge and install your shortlisted applications on your test server. You login and take your first look. You don't have the time to conduct a full in depth analysis of each application you just go for the one that looks the nicest.
You may come to regret the choice later and you know that you shouldn't make such an important decision on superficial beauty but you do it anyway, we're hard wired that way and there is nothing we can really do to stop it.
So you've heard great things about the latest release of Joomla!, version 1.6, it's been many years since you saw her last but you're excited to see what she has to offer.
You hit enter at the login screen and what do you see?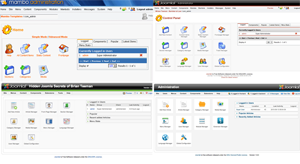 It's like a person who dresses the same as they did 10 years ago, they've gained a bit of weight and added a few wrinkles, there's a slightly different hair style and you spot the faint impression of a change of clothes but there's nothing really new.
It's the exact same interface that you saw in 2005 and it was showing it's age then. Somehow you feel that you've been tricked into a date after meeting online and being shown the photo of someone else.
You remember that beauty is skin deep and that the personality matters so you persevere and start to build a test site. But everywhere you go you find yourself hunting for the right button to press.
Just when you've worked out where that special hidden spot is that makes Joomla! do it's magic you switch screens and have to start the search again. You can hear Joomla screaming at you to open your eyes and move just a little bit to the left or right but no matter how hard you try, every time you change screens you can't quite find the spot.

Don't make me think!!
I'm a man and I'm not very bright, I don't cope well when faced with a myriad of options. Just let me concentrate on the basic stuff and when I'm ready to be a guru let me find the power options.
"Usability design" says you should design for the masses and concentrate on the important features and functions. Be consistent in your approach so the simple user, like me, isn't playing hunt and click with their mouse. Keep the dangerous stuff, like delete and trash, away from my mouse. I'll blame you, not me if I click on that by mistake.
I want everything!!
I want a sleek sexy body with a pretty face that satisfies my superficial desires and I want it to make it easy for me. I want to have all those power options but I don't want to know anything about them until we've got to know each other better. I want to please you and dance with you because when I do you will put a smile on my face.
There really can be "Power in Simplicity"
Further Reading
I've written about some of this before and will be continuing this blog post tomorrow.