After seven years of hosting all my sites and my client's sites with SiteGround I've moved everything to a new hosting provider, ScalaHosting. I've held on to this post for a few months to make sure that everything worked as intended. I wouldn't want to publish a recommendation until I had truly tested it in the real world.
Everyone has their own hosting needs and over time they may change. So it's not surprising that after seven years my hosting requirements have changed. At the same time SiteGround's own priorities and focus have changed so we were no longer a good fit for each other.
"By failing to prepare, you are preparing to fail." Benjamin Franklin
Obviously the decision to select a web host is not an easy one, especially as it's not just a host for me but also a host for my clients. In order to make a decision from a position of knowledge instead of randomly picking a host I created my own check list of requirements. They are the result of years of experiences, both good and bad, not just of myself but of friends and colleagues. The check list is in my head but I can summarise them and as you will see they are also a mix of technical, price and emotion.
Price
Changing hosts is not free, it takes my time etc so it's not something I am going to do every year. I'm not interested in a race to the bottom, I want to pay a fair price for a fair service. A host that offers crazy low prices at the beginning and then ramps them up exponentially over time is not for me. I'm looking for a long term relationship but at the same time without being tied into long contracts in order to get a fair price.
I'm also not interested in paying for a bunch of services that I will never use. That seems an obvious statement but one reason given for increased hosting prices at SiteGround was that it included a lot of new features. While that might have been a good deal if you wanted those features, for people like me that didn't it was just paying money for nothing.
"Fool me once, shame on you. Fool me twice shame on me."
Emotion
It's hard to put a finger on exactly what this is. It's that feeling that the host cares. The feeling that you are entering into a partnership with them. That your success is their success. Of course this is a business relationship and both sides want to maximise the benefits but that shouldn't be at the expense of the other.
An example of this would be a host that advertises a low price but by the time you have configured everything the actual price is considerably higher. Or a host that tries to get you to pay for something like an SSL certificate and hides the free LetsEncrypt SSL option.
Technical
The trend in hosting over the last few years for anyone hosting more than one site is to go for some variant of a virtual private server (VPS). This isn't the place to expound on the advantages of a VPS but in a nutshell it's all about control.
"It's ok to have all your eggs in one basket as long as you control the basket" Elon Musk
Like pretty much everything that Musk says there is both truth and fallacy in what he says. There is a big difference between how much control do I want on the VPS and how much control should I have on the VPS. I know what I know and I know what I don't know. Most VPS are unmanaged, that means you get the space and it's up to you to install the server as well as the site. I figure that I can work out how to install the server as I used to do that sort of thing many, many years ago. But can I ensure that it is secure AND kept secure?
Do I really have the time to keep the server up to date as well as the site? The consequences of a hacked server to my business and my reputation will be pretty high. I've worked on far too many client sites where they have full control of the server, dedicated or virtual, which they claim to be for security purposes. Far too often the server is badly configured with a very old version of php and with essential php functions disabled because "I read a blog post somewhere that recommended it".
So I knew that the only sensible option would be to acquire a fully managed VPS. That would be a partnership between me and the host where I manage the web sites and they manage the server. With the right partner that is a recipe for hosting success.
Everyone has their development tools of choice and mine are Visual Studio Code and HeidiSQL. Correctly configured and with the appropriate security in place I am able to use them as if the files and database are sitting locally on my own computer. This does of course require remote MySQL access and SSH so that's far more important to me than the hosting partner offering cPanel with a file manager and phpMyAdmin. Those tools are just too slow and unproductive for me and time is money. Or more accurately time wasted on that is time not spent playing with whatever new geeky gadget that I've just bought myself.
Make Your Own Mind Up
I'm not going to go into detail on all the other Joomla VPS features that they offer as I'm sure that you can check it out for yourself.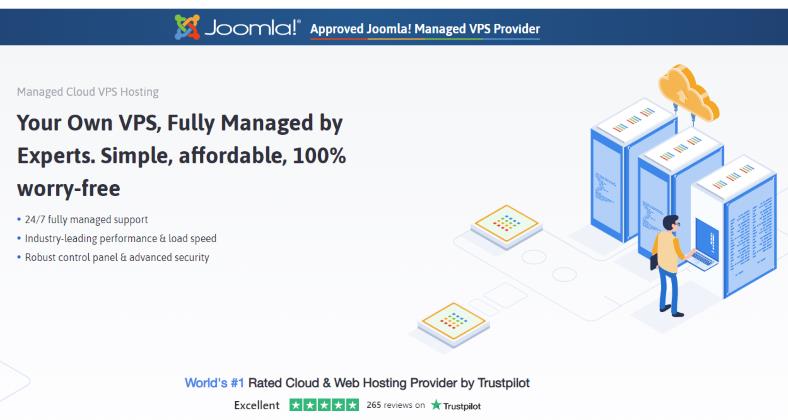 Decisions
You can probably imagine that I get a lot of emails from hosts looking for a partnership or some form of recommendation. You can get a good feeling about someone from their approach and that's exactly what I got with ScalaHosting. I checked out their offering and it appeared to tick my boxes but I really wouldn't want to move everything without a real test.
Luckily with ScalaHosting are so confident in their service that they back it up with a 30 day, no questions asked, money back guarantee so it was going to be relatively risk free to test it with just one site before making the move. As it happened one of the clients that was going to move wanted a completely new site so I was able to build that site on ScalaHosting while the current site was still with SiteGround.
This was to be a great test. I was able to test all the aspects of the service fairly quickly, both the technical stuff involved with building a site - always more than what you need for just hosting a current site and the more emotional stuff such as the support desk. (Yes the test account was in the client's name, not mine, so it was not connected to me and any possible VIP treatment.)
Everything worked great.
I spotted a few accessibility issues with their management ui and I had a few requests for enhanced features. Very quickly I received a reply that the issues had been addressed and the feature requests had either been completed or scheduled for completion shortly.
Never really having used a VPS before I had need for some support. All hosting companies seem to be boasting about how fast the support response time is but that's of no interest to me. I want accurate and helpful support not useless advice because in the rush to reply the actual request was not understood. (Sadly that had been happening to me a lot recently with SiteGround. I guess my support requests were a little more technical than the average.) Each ticket was responded to quickly and accurately together with a great explanation of what had been done etc. I would rather receive a full technical explanation so that I can learn from it than a quick "we fixed it" response.
Fast Joomla VPS Hosting
ScalaHosting seemed to be very proud of how fast their Joomla VPS Hosting is and while it wasn't necessarily a major criteria for me I was blown away when I compared the performance of the exact same site across the two providers. Of course if you are loading 50mb of images and 37 external scripts on your site no host can make that fast. ("You can't polish a turd you can only roll it in glitter.")
Conclusion
As I said at the beginning of this long rambling blog post I moved everything to ScalaHosting several months ago. I am not prone to making recommendations for hosting as everyone's needs and requirements are different all I can do is say that I am 100% happy and am looking forward to building many more Joomla websites on my shiny new(ish) managed VPS hosting from ScalaHosting.