Almost exactly one year ago I started work redesigning a large, complex and very un-friendly joomla 1.0 web site.
The site had been built in a rush and had grown rapidly with thousands of pages and a very poor navigational structure.
Users were regularly complaining that they could not find important information even though we knew it was there.
As a source of information it faired badly and the general impression was that it was disorganised and unprofessional and not a good representation of the organisation.
The original site used the now defunct OpenSEF to provide short urls and ranked very highly for all the desired keywords so obviously we did not want to do anything that would harm the site's visibility in search engines.
I had read many "horror" stories of sites dramatically losing visitors when they moved from joomla 1.0 to joomla 1.5 and the SEO "experts" were saying never to change a url. Clearly maintaining the same urls would both be a mammoth task and not one that was even possible with many urls with the site being sub-divided into seven sub-domains.
After much contemplation, my naval had never been so clean, I decided to bite the bullet and not worry about the urls. Instead I would put my trust in the improved accessibility and usability of the new site to maintain our search engine presence.
It was a gamble but one that after taking into account the required manpower, and associated costs, of maintaining urls was one that I decided was worth taking.
The site has been live now for a little over four months so how has the gamble worked out. Was I terribly wrong, would no one see the results of my labour or would the drastically improved user experience in fact lead to increased visibility.
The Results
The site was launched at the beginning of the Jewish Holy days in October so because this is a period of high demand for the web site I will compare the first four months of the new site with the same period of the previous year.
Site Usage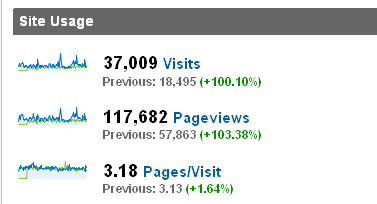 Keywords
Google keywords

| Keyword | % Change |
| --- | --- |
| reform judaism | +30.80% |
| movement for reform judaism | +68.70% |
| judaism | +261.11% |
| refrom synagogues | +22.30% |
Conclusion
Whilst changing urls clearly can have a negative effect for some people we have found that the improved accessibility and navigation built into the new web site structure and design have easily outweighed any negatives.
This article is the first of what will hopefully be several on the 6 month long process involved in building www.reformjudaism.org.uk and its associated sub sites.