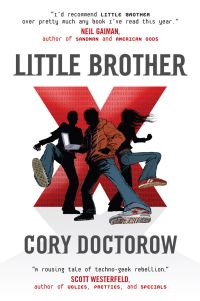 During the holiday season instead of planting yourself on the sofa in front of the TV and staring mindlessly at repeats of old movies "Why Don't You Just Switch Off YourTelevision Set and Go and Do Something Less Boring Instead?"
(That was the name of a UK TV show in the 80's that ran during the school holidays.)
Having just finished reading "Little Brother" by Cory Doctorow I can't think of a better way to spend the holiday break.
What's Little Brother about?
"Marcus, a.k.a "w1n5t0n," is only seventeen years old, but he figures he already knows how the system works–and how to work the system. Smart, fast, and wise to the ways of the networked world, he has no trouble outwitting his high school's intrusive but clumsy surveillance systems.
But his whole world changes when he and his friends find themselves caught in the aftermath of a major terrorist attack on San Francisco. In the wrong place at the wrong time, Marcus and his crew are apprehended by the Department of Homeland Security and whisked away to a secret prison where they're mercilessly interrogated for days.
When the DHS finally releases them, Marcus discovers that his city has become a police state where every citizen is treated like a potential terrorist. He knows that no one will believe his story, which leaves him only one option: to take down the DHS himself."
(Reproduced under the CC by-ND-NC from craphound.com)
This book should be essential reading for every high school student. I would say for everyone but it is the high school student of today who will be more effective in addressing the issues Cory raises in the book.
The book is available online to read for free and not only should you read it but after you read it tell everyone you know about the book as well.